Founded in the early 90´s by former executives of Cooper Animal Health (ex Wellcome Research Lab.), with a clear idea: the creation of a bio-technological Company specialized in the development and production of vaccines for animal health.
The combination of The Wellcome Research Lab. heritage in knowhow and strains, our constant technological updating and a high grade of specialization allowed us to become an international landmark in animal disease prevention.
MISSION
In a world increasingly crowded, where the efficient use of resources is key to sustainability, we aim to safeguard one of the most important food supplies, providing a proven quality and effective range of vaccines for animal health.
Our mission is to help you prevent.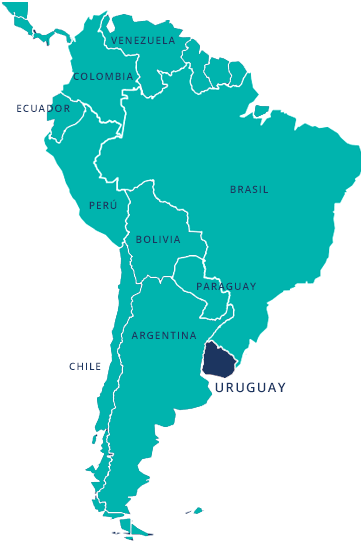 Located in southern South America, bordering Brazil and Argentina, Uruguay has a population of 3.5 million inhabitants and, the official language is Spanish. Our manufacturing facility for biological products is situated in Montevideo, the country´s capital city.
Uruguay is well known for its fertile land and abundant pastures for raising cattle, and development of agricultural activity.
Its landscape consists mainly in plains and low hills, with a fertile coastal strip, in a subtropical and temperate climate.
Based on these natural advantages the agricultural and livestock breeding sector represent the main income of the country's economy.